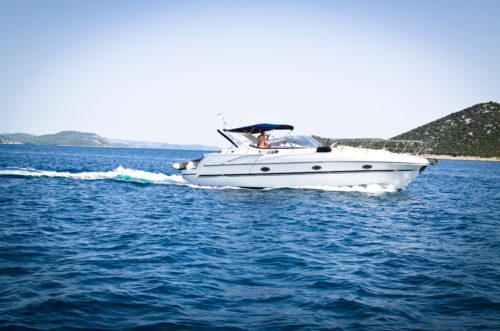 As the Fourth of July draws near, many of us are getting more and more excited to take our boats out on the water. Boating is a fun, relaxing Fourth of July pastime, especially when you bring your friends and family along as well. This is why before the Fourth rolls around, be sure to give your boat a good look-over before bringing friends on board. Here are some questions you may have regarding the necessary safety measures you must take before setting sail.
What should I check for when determining whether my boat is safe?
If you are going to be inviting others on board, then you will be responsible for more than your own life. Here is a checklist that you should go over before inviting anyone aboard:
Ensure the through-hull connections are not leaking

Check for serious scrapes on the hull

Look for signs of blade pitting

Examine the gunwales, transom, cockpit, and the outer edge of the bow

If the boat is in the water, ensure the vessel is not taking on water

Ensure the anchor is attached to the boat and has a significant length of ground tackle

Always have working flares on board

Keep an operating manual for the boat radio and engine onboard

Always have any other necessary safety equipment on board, such as: personal flotation devices, fire extinguishers, sound-producing devices (horns, etc.), pollution regulation placards, ventilation, backfire flame arrestor, and marine sanitation devices

Some of the documents you are required to have onboard are: owner contact information, accident report forms, Certificate of Number, an updated registration decal, marine towing membership card, and vessel registration
If you decide you wish to take your boat out this Fourth of July, it is so important that you understand the huge responsibility you have. Boats are big pieces of machinery, and they are not, under any circumstance, to be operated while under the influence of drugs or alcohol. If you injure someone or someone else was injured due to your negligence, you will most likely be held responsible in court.
What do I do if I was injured in a boating accident due to another party's negligence?
If you were injured due to another party's negligence, you may be entitled to financial compensation. However, in order to recover compensation, you must prove the other party's negligence beyond a reasonable doubt. This is why it is important for you to take photographs or videos of the incident, if at all possible. This may help you prove your case in court. Medical documents will also help your case, so be sure to consult a medical professional after your accident occurred. 
Contact our Arizona firm
The legal team at Weintraub & Weintraub has years of experience representing clients who have been injured in accidents due to the negligence of others as well as those who are facing charges of driving under the influence. If you need strong legal representation, contact our firm today.